por Raul Lufinha, em 08.02.12
Como se pensava que líamos os menus:
"Diagram showing the pattern of reading a restaurant menu that was thought to be the industry standard in the restaurant business. This scan path implicates a "sweet spot" just above the center of the right hand page, where it's believed that customers look the longest and gaze most frequently. Restaurants place the items they hope to sell the most in this fabled sweet spot, lying just above the midline on the right-hand page. The sweet spot is just one strategy, along with colorful text and highlighted boxes, which menu designers use to catch a diner's wandering eye."
 Como o novo estudo descobriu que lemos o menu: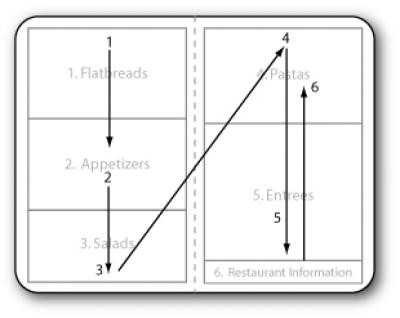 "Diagram showing how we read restaurant menus, based on a new eye-tracker study by San Francisco State University Professor Sybil Yang. The research found that customers tend to read a restaurant menu sequentially like a book. These findings challenge years of conventional wisdom in the restaurant industry, which until now, proposed a more complex scan path with a "sweet spot" above the center of the right hand page – an area where customers are thought to look the longest and gaze most frequently. Yang's results found no evidence of menu sweet spots."
Fonte: New study finds no evidence of menu sweet spots, where diners look longest, 1 Fev. 2012
Autoria e outros dados (tags, etc)
por Raul Lufinha, em 07.02.12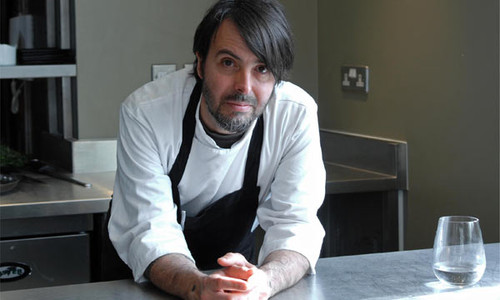 "It's a shame that Jay Rayner didn't enjoy VIAJANTE. Our team and I are all proud of what we do and we will continue to push to get better and better. We hope that he can visit us again so that we can change his opinion."
NUNO MENDES, Chef do VIAJANTE (1 * Michelin 2012), in Facebook, 6 Fev. 2012
VIAJANTE | Town Hall Hotel, Patriot Square, London E2 9NF, Reino Unido | Chef Nuno Mendes
Autoria e outros dados (tags, etc)
por Raul Lufinha, em 07.02.12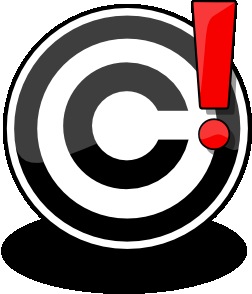 Nestes tempos em que se discutem as leis SOPA/PIPA, regressa a velha questão dos direitos de autor das receitas:
"Deve um cozinheiro que segue uma receita de outro pagar-lhe um royalty?"
Autoria e outros dados (tags, etc)
por Raul Lufinha, em 06.02.12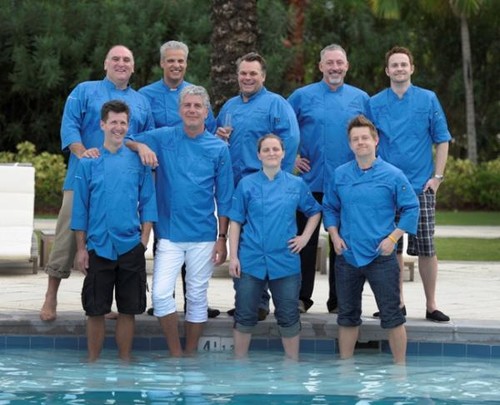 "Cayman Cookout 2012", The Ritz Carlton, Cayman Islands, Jan. 2012
"Restaurant work is so much more than simply cooking and serving customers.
One of the things that any business must be involved in is marketing.
For a restaurant and its chef, it has become increasingly important to get your name circulating and to make some public appearances.
Food festivals are held everywhere and it can be a very valuable experience for a chef to get out, meet other chefs and listen to what the public has to say in a less formal environment.
Traveling to food events and festivals can also be an opportunity to experience and be inspired by another place.
It's very difficult for chefs to take actual vacations so being involved in an event can be a way to mix business and pleasure."
ERIC RIPERT, Chef do LE BERNARDIN (3 *** 2012, 4 **** NYT, #18 2011), 26 Jan. 2012
LE BERNARDIN |155 West 51st Street, New York, EUA | Chef Eric Ripert
Autoria e outros dados (tags, etc)
por Raul Lufinha, em 05.02.12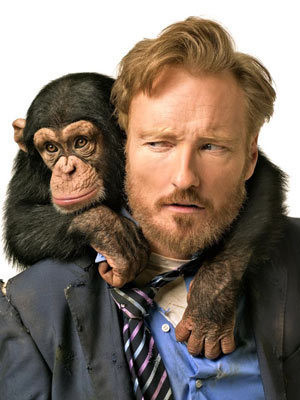 "Being a celebrity means I can get any restaurant reservation when George Clooney cancels at the last minute."
CONAN O'BRIAN, humorista norte-americano, 30 Jan. 2012
Autoria e outros dados (tags, etc)
por Raul Lufinha, em 04.02.12
"One of the things I'm always looking at as I travel around the world is 'where the cooks come from'.  And if there's a regular feature, a common thread wherever you go in this world, it's that the best cooks and often the best chefs come from the poorest or most challenging regions.
And it is without doubt that the greatest, most beloved and iconic dishes in the pantheon of gastronomy — in any of the world's mother cuisines — French, Italian or Chinese — originated with poor, hard-pressed, hard working farmers and laborers with no time, little money and no refrigeration.
Pot au Feu, Coq au Vin, Sup Tulang, Cassoulet, pasta, polenta, confit — all of them began with the urgent need to make something good and reasonably sustaining out of very little.
So many of the French classics began with the need to throw a bunch of stuff into a single pot over the coals, leave it simmering unattended all day while the family worked the fields, hopefully to return to something tasty and filling that would get them through the next day.
French cooking, we tend to forget now, was rarely (for the majority of Frenchmen) about the best or the priciest or even the freshest ingredients. It was about taking what little you had or could afford and turning it into something delicious without interfering with the grim necessities of work and survival.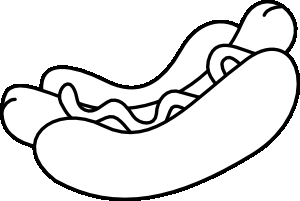 The people I'm talking about here didn't have money—or time to cook.  And yet, along with similarly pressed Italians, Chinese, Spanish, Portuguese, Indians and other hungry innovators around the world, they created many of the enduring great dishes of history.
So the notion that hard working, hard pressed families with little time and slim budgets have to eat crappy, processed food – or that unspeakably, proudly unhealthy "novelty dishes" that come from nowhere but the fevered imaginations of marketing departments – are, or should be, the lot of the working poor is nonsense."
ANTHONY BOURDAIN, Chef, escritor e apresentador de televisão, 28 Ago. 2011
Autoria e outros dados (tags, etc)
por Raul Lufinha, em 03.02.12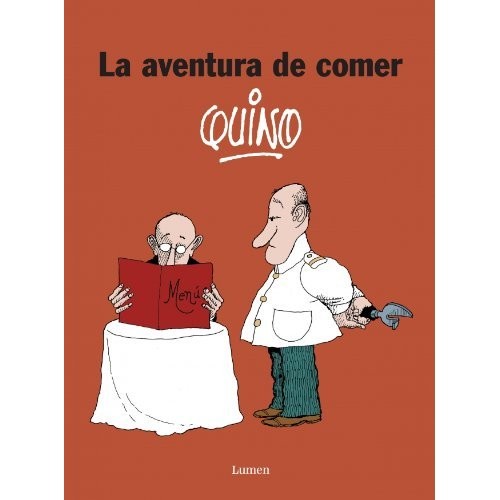 Autoria e outros dados (tags, etc)
por Raul Lufinha, em 02.02.12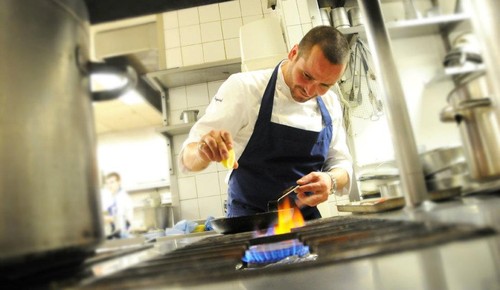 (Hans Neuner, no Obsession – Festival of Food & Wine, NORTHCOTE, 27 Jan. 2012)
"I have a passion for fresh fish and seafood, and my restaurant's location metres from the sea on the Algarve coast is certainly ample inspiration.
The OCEAN restaurant has views over Portugal's southernmost coastline and the Atlantic Ocean, and while guests breathe the sea air, the menu incorporates tastes of the ocean.
My real favourite obsession is with barnacles, or 'perceves' in Portugese, which grow wild on the rocky coast nearby of Sagres and the Costa Vicentina.
My top tip is to serve these with seabass, capers, clover and veal breast... delicious!"
HANS NEUNER, Chef do OCEAN (2 ** Michelin 2012), in MSN Food, 18 Jan. 2012
OCEAN | Vila Vita Parc Hotel, Rua Anneliese Pohl, Alporchinhos, Porches, Portugal | Chef Hans Neuner
Autoria e outros dados (tags, etc)
por Raul Lufinha, em 01.02.12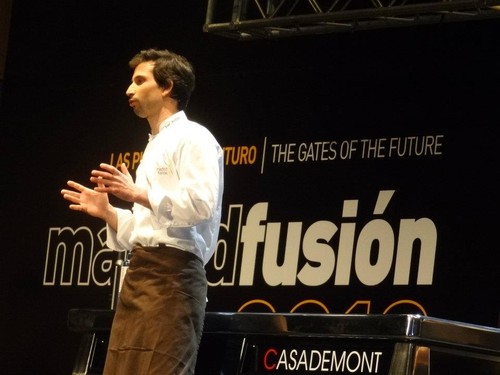 Como a imprensa espanhola viu a apresentação de José Avillez na 10.ª edição do Madrid Fusión, dia 26 de Janeiro:
"Otra de las tendencias presentadas hoy en Madrid Fusión ha sido la de los chefs que ejercen como pintores o arquitectos con la creación de platos que reproducen paisajes, en este caso de Portugal, de las manos de José Avillez (BELCANTO, Lisboa).
Desde el bosque tras una montería, con hierbas evocando árboles y jugo de remolacha los restos de sangre, hasta una zambullida en el mar con algas, rodaballo y bivalvos, una composición que traslada directamente a la costa sin utilizar ni sal ni ningún tipo de grasa."
BELCANTO | Largo de São Carlos, 10, Lisboa, Portugal | Chef José Avillez
Autoria e outros dados (tags, etc)
---